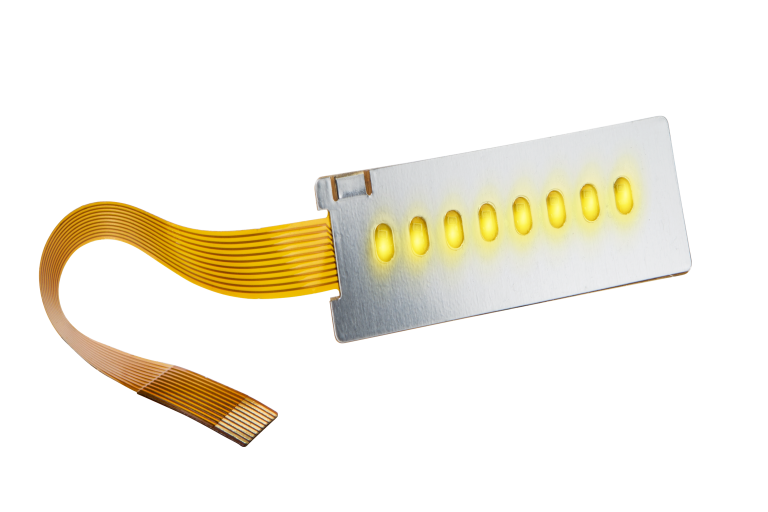 Membrane Switches for the Industrial Electronics Industry Capabilities
Durability and Lifespan
The industrial electronics industry relies on durable components for a high-quality piece of equipment. These devices need to work and be reliable for years at a time, even as they are used on a daily or even hourly basis.
This means components need to have that same level of durability. Buttons and switches that are pushed require lifetime actuation, and materials and graphic overlays need to withstand a range of environments, moisture, and perhaps even chemical cleaners. Material selection is critical, and we have a great deal of expertise in this area after working for years in the industrial electronics industry.
Our engineers work closely with our customers to determine the best option based on their unique applications, product requirements, and budgetary constraints.
Backlighting
On a daily basis, we work with custom color LEDs, fiber-optic panels, diffusion materials, and opacity solutions including black gasketing materials to provide precise control of lighting panels. Our engineers can help you select the backlighting system that is ideal for your product, delivering assemblies that help drive great brand impressions and meet critical design goals.
Prototyping
Our 4-step rapid prototyping process can save you time and money. More importantly, it's a proven approach designed to get your product to market faster. That's because our prototypes are not facsimiles made of sub-standard materials. These are fully functional parts and components, built with the robustness of a true production product and ready for rigorous application testing.We specialize in the rapid prototyping of membrane switches, graphic overlays, and labels. Check with us to see what we can do for your design in our current schedule. In a week or less, we can deliver as many labels or overlays that can be laid out on two 12×18 sheets of material. Both can be handled on very reasonable, single-lot charges. Please contact us for custom requests.
ESD/EMI Shielding
While it may sound like a complex phenomenon, electrostatic discharge is a basic principle of physics.
When matter – for example, a human finger – comes into contact with other things – for example, a membrane switch – the electrons discharge as energy, known as electrostatic discharge.
And while ESD may seem like an occasional nuisance – a tiny shock from a handshake or a few wrinkles on your clothing – ESD discharges into equipment are often a literal shock to the system.
Our experienced team designs, develops, and manufactures components to shield the sensitive electronics inside of membrane switches from electrostatic discharge.
See Our Work in the Industrial Electronics Industry
MARINE AUDIO ELECTRONICS CASE STUDY
JL Audio, a global electronics manufacturer, approached JN White® for assistance with an electronic graphic overlay solution. The customer needed a thermoformed part that would fit the customer's housing and stay properly bonded. JN White® was able to develop a dome-shaped graphic overlay that successfully met all requirements. In addition, the custom adhesive solution proposed by JN White® successfully holds the overlay in place. The component is in use today on one of the customer's premier marine audio systems.
RUGGEDIZED MILITARY ELECTRONICS CASE STUDY
A long-term DoD subcontractor approached us for design support on a military membrane switch when their internal design department did not have sufficient resources. The project involved designing and developing a membrane switch for use in a ruggedized military laptop. The design team at JN White® rose to the challenge and assisted in designing a keypad that met all the specific military requirements of the project.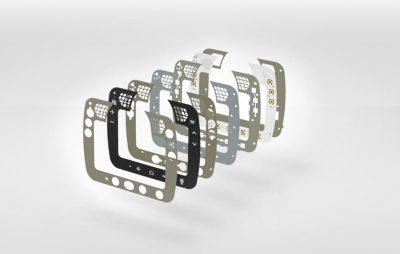 Turn Your Concept Into A Prototype
Get complete production-quality products for testing before committing to full production.