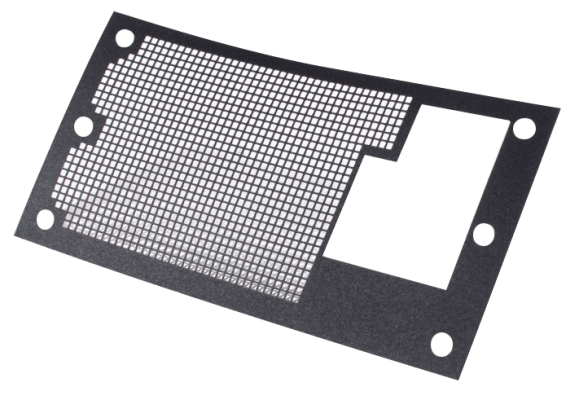 Our state-of-the-art cutting processes feature an optical registration system that enables precision print-to-cut registration when producing printed graphic products, and perfect cut-to-tape alignment of a variety of components.
Examples of precision cut components:
FAST PROTOTYPE TURNAROUND
If we have your material on-hand, we can get samples cut within just a few days, allowing you to quickly prove out form fit and function.
Die Cutting

The most common cutting type, die cutting utilizes custom made steel rule or machined hard tool dies to cut through a variety of materials and thicknesses. Die cutting can be equating to a cookie cutter made in the shape of your part, and a large stamping machine stamps out your precision die cut parts with that cookie cutter. It is fast, efficient, precise, cost effective. Ideal for larger-run cutting.
Flash Cutting

Flash cutting is ideal for prototyping (short runs), or projects where flexibility and rapid or frequent changes may occur. The process is also ideal for fast-turnaround requirements. Flash cutting utilizes computer-controlled laser and precision Zund blade cutting machines that product extremely accurate dimensional cuts in a variety of materials.
Kiss Cutting

At Kiss cutting is a precision cutting process in which the cut is through the primary material, but doesn't penetrate the adhesive or backing liner. This allows for a larger backing/liner that remains after the cut, which is easier to remove in the manufacturing process.
Flat-Bed/Clam Shell Die Cutting


Cut types: die cutting, kiss cutting
These tried-and-true machines are the backbone of any die cutting business. We rely on them for a significant amount of our precision cutting needs. They work like a high-tech cookie cutting, stamping our precise part shapes from a wide range of materials. They work fast, extremely efficiently, and are ideal for any large-run project.
Preco Automated Die Cutting


Cut types: die cutting, kiss cutting
Our Preco automated die cutters use video optical registration systems to assure that the finished "print to cut" allignment is right every time. The camera system locates targets that have been printed on the press sheets and adjusts the strike of the die to those targets. If the printing moves on the sheet so does the cutting. This process also allows us to purchase fewer cavities in a tool. With the camera registration system the press will "step through" the sheets with exacting precision. As an example It is very common for us to use a 5-up Preco tool for a 20 up printed sheet saving our customers money on their initial tooling charges.
Laser Digital Cutting Systems


Cut types: die cutting, flash cutting, kiss cutting
Our laser-cutting system is precise, cost effective and ideal for every aspect of polycarbonate and acrylic material manufacturing, from prototyping and short-run projects to full production of otherwise hard-tooled programs. Our multiple machines, at our 2 different manufacturing facilities, can cut with extreme precision on polycarbonate materials up to 1MM thick and acrylics as thick at 5MM.
Zund Precision Blade Digital Cutting Systems


Cut types: die cutting, flash cutting, kiss cutting
Our Zund Digital Blade Cutting Systems excel at cutting a variety of materials, particularly in short-run projects. We typically recommend and use this method on kiss cut label jobs where the volume warrants digital cutting (no tooling) and the customer wants several parts delivered on a carrier sheet.
**Both of the above "digital" cutting processes allow us to provide prototypes with an extremely quick response time. If we have your material on hand, we can get samples cut allowing you to prove out form fit and function within just a few days.
Request a Sample Pack of Precision Cut Components
We know that you might want to feel and interact with our work before committing to a project with us, which is why we've put together a variety of samples to send to you, free of charge.
See What Our Customers Are Saying
"Very pleased with your team's response to our need during the COVID-19 crisis."
Lisa L., Medical Device
"JN White has been exceptional in working with our company in order to develop the look and feel of our new MRI patient worn transmitter. We had originally worked with a prior manufacturer for an earlier version of this product with much less desirable results. JN White delivered a clean professional product at a very reasonable price on time!"
Gary P., Medical
"We had very little information to work with and Jessica James made it nearly effortless on our end to get us exactly what we needed in a timely manner."
Lexi W., Industrial Equipment
"Getting any after-market graphic overlays done always has a certain risk factor in getting it all right. You guys were helpful, patient, & knowledgeable to achieve the best end result. Even pointing out some things that might be [an] oversight or [areas for] improvements. The outcome was perfect."
John S., Technology
"The print task was between the USA and Australia and everything went so smooth. I submitted a drawing, got a return email for me to confirm what I wanted. Even though this was over the Christmas period the print was waiting for me when I got back to work after the holidays. Great job and thanks."
Matt C., Military
"All of the folks there at JN White that I have talked to and dealt with have been very nice and professional."
Vern L., Industrial
"Customer service is wonderful. Receive confirmations and responses in a timely manner. Product has great quality."
Sara H., Medical
"It has been a pleasure working with JN White. We switched suppliers for some of our products to your company and you have given us higher quality. Excellent work!"
Roger W., Education
"I feel confident that JN White will do my order correctly."
Marie P., Government
"I found working with Sara to be a pleasant experience. We were trying to dial in the color to get just the right look on the printed substrate...Sara sent us a sample print sheet that had several variations, up and down, from the colors we specified, which allowed me to pick exactly the color we wanted. The end result product is perfect!"
Don M., Safety
"Our department has used JN White for a number of years for our inspection labels. They always respond very quickly when we contact them to place an order and communication is great with any questions we have. Highly recommend them."
Jim R., Government
"Easy process and great people to work with."
Richard Z., Military
"I'm very satisfied with your service. Always looking forward to bring the best!"
Ramses Z., Medical Devices
"JN White is very responsive to their customers. Product is delivered as expected...and they provide quality products. They have a clear understanding of the obstacles facing US based customers regarding the entire supply chain."
Bob M., Point of Sale
"We always deal with Steve Matacz. He is the best at making sure all details are perfect. Timely communication with any questions we have."
Paul A., Recreational
"Customer response time is one of the best; always prompt and helpful. On-time performance the last 12 months is 100%."
RoseMarie C., Utilities
"Customer service, quality and lead time are great! No complaints."
Sara H., Medical Devices