Complex user interfaces are more than a simple membrane switch or graphic overlay – they are a full solution, combining multiple products and services into a single, final, product.
We consider an interface to be complex if it requires one or more of the following characteristics:
Specific Use Case
Integrated Components
Each additional feature of the switch adds a new level of complexity to the final product.
We offer all of these services separately, but when bundled together, they create an end-to-end, complete solution for our clients, all managed by a single vendor.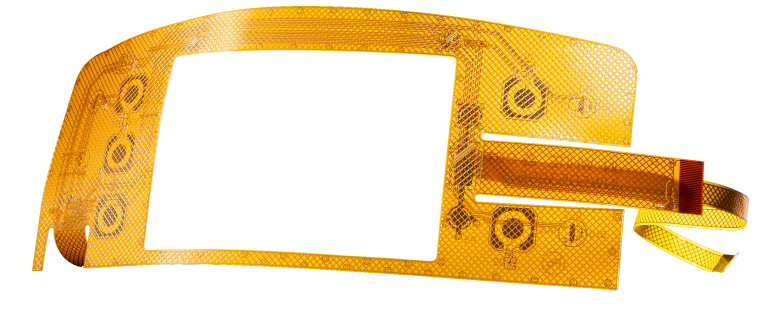 Design Consultation
Let's start by taking a look at your designs. JN White® provides in-depth expert consultation on your part's design and manufacturability. We offer fresh thinking, our extensive experience on what works and what doesn't, along with money-saving suggestions on the most cost effective ways of getting your parts made.
Our design consultation, in-house 3D modeling, and quality-focused production process will perfectly translate your designs into manufacturable parts.
Don't have a drawing of your parts? We can reverse-engineer a part by using it as a reference. We're not just a "build from blueprint" manufacturer, we're a collaborative partner.
With team expertise that includes electrical, mechanical and mechatronic engineering, as well as many years of specific manufacturing experience, we know how to help our customers bring their products to market.
Prototype
Our 4-step rapid prototyping process can save you time and money. More importantly, it's a proven approach designed to get your product to market faster. That's because our prototypes are not facsimiles made of sub-standard materials; they're fully functional parts and components, built with the robustness of a true production product and ready for rigorous application testing.
We specialize in the rapid prototyping of membrane switches, graphic overlays, and labels. Check with us to see what we can do for your design in our current schedule. Often in a week or less, we can deliver as many labels or overlays that can be laid out on two 12×18 sheets of material. Both labels and overlays can be handled on very reasonable, single-lot charges.
Assembly
Often the most complex custom interface products also require custom assembly. We use state-of-the-art techniques to assemble custom projects that incorporate our products and services in the final package—without defects, always with the highest quality imaginable. We can also print and include brochures, as well as any branding and labeling that's required for shipping.
Test
Before any product leaves our production facilities, it is tested for 100% functionality with testing equipment that is annually calibrated. Hipot (high-potential) testing is conducted throughout production to ensure switches are robust.
If needed, we can also test to ASTM (American Standards Test Methods).
Manage Inventory
At its core, our vendor managed inventory (VMI) program allows us to support our customer's demands for reduced inventory, increased inventory turns and JIT (just in time) inventory management. These are key elements of lean manufacturing principles, wherein manufacturers try to push the burden of inventory as far upstream as possible. By tightening the entire supply chain, we work together to bring new efficiencies to the process.
Our digital capabilities help us eliminate complicated and costly set-up efforts. Our inventory management system gives us complete visibility and control over our entire live inventory. And our velocity scheduling approach helps drive all of our manufacturing activities to be more efficient than ever. It's part of what makes JN White® different. We think differently, and our innovative solutions help us shrink lead times, reduce liabilities, and free up capacity.
Ship
Because we manage the entire process, we can also manage the shipment of your final product to your customers. You can expect shorter lead times and prompt, on-time delivery.
For our customers, it all boils down to this: superior outcomes and an effortless experience from project start to product finish.
We're experts in our field, and we're not afraid to say so. We have amped up our printing and custom component capabilities, invested in the latest and greatest technology, and upped the ante for industry precision.
Because of our dedication to bringing our customers an unparalleled standard of quality and finish, we hire and retain the best engineers and personnel in the field, combining decades of experience into one company that has extensive experience solving challenges with complex user interfaces.
Considering a new vendor? Working with JN White® is frustration-free. Led by our New Business Development team, you'll have a direct contact from concept to finished product. We'd love to have you on board.
Check Out Our New Power Pack Samples!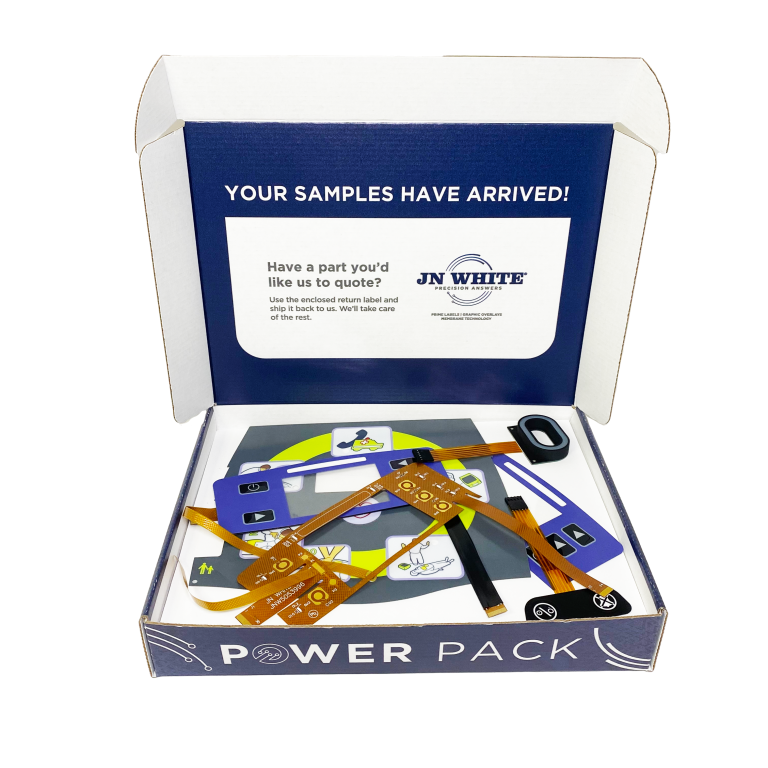 We have compiled a variety of our most versatile membrane switches and unique samples that you can feel and interact with, free of charge. See first-hand the quality, function and durability these highly customizable switches provide users. Request a Power Pack today!
"Very pleased with your team's response to our need during the COVID-19 crisis."
Lisa L., Medical Device
"JN White has been exceptional in working with our company in order to develop the look and feel of our new MRI patient worn transmitter. We had originally worked with a prior manufacturer for an earlier version of this product with much less desirable results. JN White delivered a clean professional product at a very reasonable price on time!"
Gary P., Medical
"We had very little information to work with and Jessica James made it nearly effortless on our end to get us exactly what we needed in a timely manner."
Lexi W., Industrial Equipment
"Getting any after-market graphic overlays done always has a certain risk factor in getting it all right. You guys were helpful, patient, & knowledgeable to achieve the best end result. Even pointing out some things that might be [an] oversight or [areas for] improvements. The outcome was perfect."
John S., Technology
"The print task was between the USA and Australia and everything went so smooth. I submitted a drawing, got a return email for me to confirm what I wanted. Even though this was over the Christmas period the print was waiting for me when I got back to work after the holidays. Great job and thanks."
Matt C., Military
"All of the folks there at JN White that I have talked to and dealt with have been very nice and professional."
Vern L., Industrial
"Customer service is wonderful. Receive confirmations and responses in a timely manner. Product has great quality."
Sara H., Medical
"It has been a pleasure working with JN White. We switched suppliers for some of our products to your company and you have given us higher quality. Excellent work!"
Roger W., Education
"I feel confident that JN White will do my order correctly."
Marie P., Government
"I found working with Sara to be a pleasant experience. We were trying to dial in the color to get just the right look on the printed substrate...Sara sent us a sample print sheet that had several variations, up and down, from the colors we specified, which allowed me to pick exactly the color we wanted. The end result product is perfect!"
Don M., Safety
"Our department has used JN White for a number of years for our inspection labels. They always respond very quickly when we contact them to place an order and communication is great with any questions we have. Highly recommend them."
Jim R., Government
"Easy process and great people to work with."
Richard Z., Military
"I'm very satisfied with your service. Always looking forward to bring the best!"
Ramses Z., Medical Devices
"JN White is very responsive to their customers. Product is delivered as expected...and they provide quality products. They have a clear understanding of the obstacles facing US based customers regarding the entire supply chain."
Bob M., Point of Sale
"We always deal with Steve Matacz. He is the best at making sure all details are perfect. Timely communication with any questions we have."
Paul A., Recreational
"Customer response time is one of the best; always prompt and helpful. On-time performance the last 12 months is 100%."
RoseMarie C., Utilities
"Customer service, quality and lead time are great! No complaints."
Sara H., Medical Devices