Most importantly, we deliver with an unmatched level of experience. When you work with JN White®, you can rely on our expertise to help you determine just the right combination of design, materials, and processes to match up with your specific needs. The result will be a label that works hard for your product, your brand, and your business.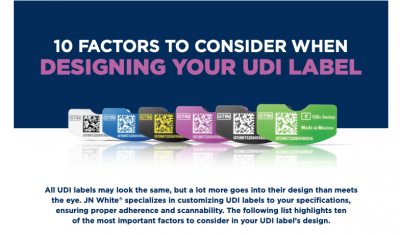 UDI Label Design Considerations
All UDI labels may look the same, but a lot more goes into their design than meets the eye. This guide highlights ten of the most important factors to consider in your UDI label's design.
Medical Device Labels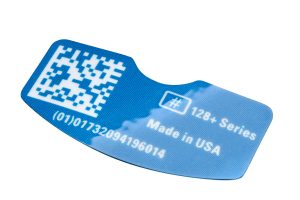 These labels must hold up, and so we use superior substrates and processes to make sure they do just that. We're a leading ISO 9001:2015 certified label and component manufacturer, so you can rest assured our products are worthy of yours. We also have extensive knowledge and experience producing FDA-compliant Unique Device Identification (UDI) labels. With in-house barcode grading technology, we can optimize the label design, test out the labels, and provide reports so our customers don't have to. Lastly, we have exceptional Pantone color expertise or the ability to match a device housing. If you are just starting out in the world of UDI labeling, we can help you learn more about the codes, the regulations, and the requirements. And if you are already working in this space, we can step right in and help streamline the process for you.
Safety Labels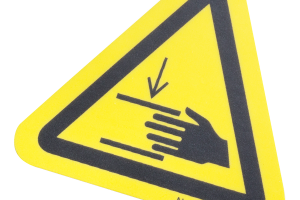 Safety labels are necessary, effective, and can be found practically everywhere. We can help you stand out with our unlimited selection of colors. We can even give your label a domed effect for added attention. However, a safety label doesn't do a lot of good if it doesn't stay in place, and there is no single adhesive choice that will work the best for all applications. We have the expertise and the resources on hand to help our customers identify the properties of almost any substrate, and then select the appropriate adhesive to deliver optimal results, regardless of surface energy, texture, curvature, or finish. We also have a great deal of experience with the UL 969 Labels and Markings standard, with multiple approved construction in place to ensure our labels match up with the UL-recognized marking component system that meets your needs.
Promotion, Decoration & Dome Labels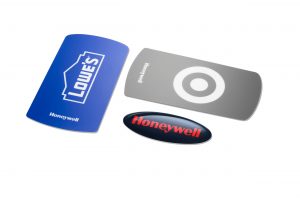 JN White® uses screen and digital printing – along with in-house color- and ink-matching capabilities – to produce durable labels that are manufactured to meet your exact specifications. With sub-surface printing or durable overlamination, your labels will be protected from the elements. Of course, in the world of prime labels, there are also visual demands that need to be addressed in addition to these more practical concerns. The right label can really help enhance the image and perceived quality of the underlying product. We work closely with our customers and their engineers to define just the look they want. This leads to specific choices for material selection, colors, graphics, finishes, and/or printed effects, all of which help to define the final label we develop.
Variable Data/Barcode Labels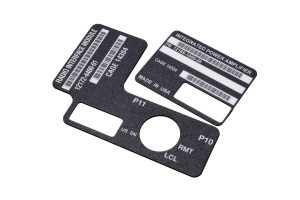 We are experts in the Variable Data Printing (VDP) of serialized numbers, barcodes and/or personalized printing. With our barcode reading and testing technology, we can assure functionality so you don't have to. This comes very much into play with regulated medical devices, which require variable data to mark products with individualized serial numbers. This drives critical production choices, as well as up-front data requirements. We also work with customers to leverage variable data to improve marketing effectiveness. VDP can be used to easily and inexpensively create "personalized" visual impact, competitive differentiation, as well as more product variety.
Request a Sample Pack of Custom Labels
We know that you might want to feel and interact with our work before committing to a project with us, which is why we've put together a variety of samples to send to you, free of charge.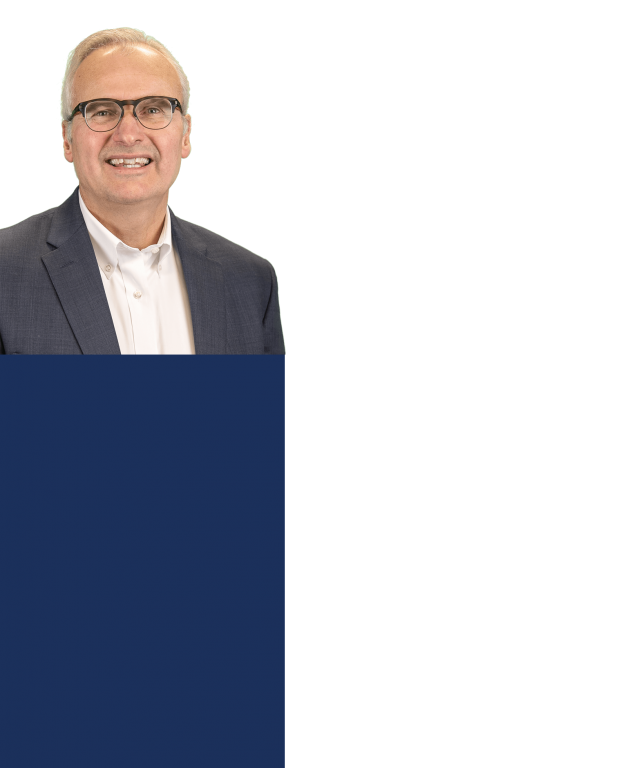 Sign up for tips from our interface guru,
Ken Boss.
Fill out this short form and we'll send occasional and useful interface tips directly to your inbox.
See What Our Customers Are Saying
"We always deal with Steve Matacz. He is the best at making sure all details are perfect. Timely communication with any questions we have."
Paul A., Recreational
"Customer response time is one of the best; always prompt and helpful. On-time performance the last 12 months is 100%."
RoseMarie C., Utilities
"Customer service, quality and lead time are great! No complaints."
Sara H., Medical Devices
We had been getting labels from a small, local supplier. Then we had a UL audit and the Inspector found that the labels should have been manufactured per UL approved constructions. She asked me what other label manufacturers use and I said, 'JN White®,' to which she immediately said, 'use them!' She didn't have to look them up or anything.
Brian B., Manufacturing
JN White® does an excellent job in regards to the quality of their product! They are a good, responsive company that takes care of its customers and, if there does happen to be an issue, is quick to rectify the problem and make it right.
Steve L., Fitness Equipment
The JN White® team handling our account makes my day much easier. Communication is clear and timely on everything from quotes to pull-ins. Rarely does any item coming from JN White® end up being an issue. I am very satisfied with the level of attention and effort that they put in on a daily basis.
Ian M., Communications
Doug and Jaime suggested an alternative  to the present (3rd party) water jet cutting of our product. JN White's® plotter cutting resulted in a superior finish and reduced cost with the entire production process being done at one supplier. Great work!
Roger W., Home Products
Every aspect, from concept to quote, to proof and the final product, is handled very quickly and the end product is always excellent.
Connor B., Homegoods