Most importantly, we deliver with an unmatched level of experience. When you work with JN White®, you can rely on our expertise to help you determine just the right combination of design, materials, and processes to match up with your specific needs. The result will be a label that works hard for your product, your brand, and your business.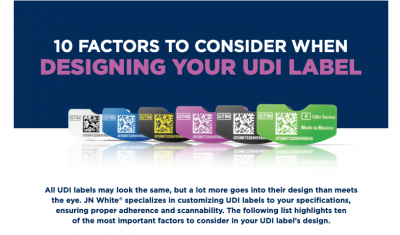 UDI Label Design Considerations
All UDI labels may look the same, but a lot more goes into their design than meets the eye. This guide highlights ten of the most important factors to consider in your UDI label's design.
Medical Device Labels
These labels must hold up, and so we use superior substrates and processes to make sure they do just that. We're a leading ISO 9001:2015 certified label and component manufacturer, so you can rest assured our products are worthy of yours. We also have extensive knowledge and experience producing FDA-compliant Unique Device Identification (UDI) labels. With in-house barcode grading technology, we can optimize the label design, test out the labels, and provide reports so our customers don't have to. Lastly, we have exceptional Pantone color expertise or the ability to match a device housing. If you are just starting out in the world of UDI labeling, we can help you learn more about the codes, the regulations, and the requirements. And if you are already working in this space, we can step right in and help streamline the process for you.
Safety Labels

Safety labels are necessary, effective, and can be found practically everywhere. We can help you stand out with our unlimited selection of colors. We can even give your label a domed effect for added attention. However, a safety label doesn't do a lot of good if it doesn't stay in place, and there is no single adhesive choice that will work the best for all applications. We have the expertise and the resources on hand to help our customers identify the properties of almost any substrate, and then select the appropriate adhesive to deliver optimal results, regardless of surface energy, texture, curvature, or finish. We also have a great deal of experience with the UL 969 Labels and Markings standard, with multiple approved constructions in place to ensure our labels match up with the UL-recognized marking component system that meets your needs.
Promotion, Decoration & Dome Labels

JN White® uses screen and digital printing – along with in-house color- and ink-matching capabilities – to produce durable labels that are manufactured to meet your exact specifications. With sub-surface printing or durable overlamination, your labels will be protected from the elements. Of course, in the world of product labels, there are also visual demands that need to be addressed in addition to these more practical concerns. The right label can really help enhance the image and perceived quality of the underlying product. We work closely with our customers and their engineers to define just the look they want. This leads to specific choices for material selection, colors, graphics, finishes, and/or printed effects, all of which help to define the final label we develop.
Variable Data/Barcode Labels

We are experts in the Variable Data Printing (VDP) of serialized numbers, barcodes and/or personalized printing. With our barcode reading and testing technology, we can assure functionality so you don't have to. This comes very much into play with regulated medical devices, which require variable data to mark products with individualized serial numbers. This drives critical production choices, as well as up-front data requirements. We also work with customers to leverage variable data to improve marketing effectiveness. VDP can be used to easily and inexpensively create "personalized" visual impact, competitive differentiation, as well as more product variety.
Request a Sample Pack of Custom Labels
We know that you might want to feel and interact with our work before committing to a project with us, which is why we've put together a variety of samples to send to you, free of charge.
See What Our Customers Are Saying
"Very pleased with your team's response to our need during the COVID-19 crisis."
Lisa L., Medical Device
"JN White has been exceptional in working with our company in order to develop the look and feel of our new MRI patient worn transmitter. We had originally worked with a prior manufacturer for an earlier version of this product with much less desirable results. JN White delivered a clean professional product at a very reasonable price on time!"
Gary P., Medical
"We had very little information to work with and Jessica James made it nearly effortless on our end to get us exactly what we needed in a timely manner."
Lexi W., Industrial Equipment
"Getting any after-market graphic overlays done always has a certain risk factor in getting it all right. You guys were helpful, patient, & knowledgeable to achieve the best end result. Even pointing out some things that might be [an] oversight or [areas for] improvements. The outcome was perfect."
John S., Technology
"The print task was between the USA and Australia and everything went so smooth. I submitted a drawing, got a return email for me to confirm what I wanted. Even though this was over the Christmas period the print was waiting for me when I got back to work after the holidays. Great job and thanks."
Matt C., Military
"All of the folks there at JN White that I have talked to and dealt with have been very nice and professional."
Vern L., Industrial
"Customer service is wonderful. Receive confirmations and responses in a timely manner. Product has great quality."
Sara H., Medical
"It has been a pleasure working with JN White. We switched suppliers for some of our products to your company and you have given us higher quality. Excellent work!"
Roger W., Education
"I feel confident that JN White will do my order correctly."
Marie P., Government
"I found working with Sara to be a pleasant experience. We were trying to dial in the color to get just the right look on the printed substrate...Sara sent us a sample print sheet that had several variations, up and down, from the colors we specified, which allowed me to pick exactly the color we wanted. The end result product is perfect!"
Don M., Safety
"Our department has used JN White for a number of years for our inspection labels. They always respond very quickly when we contact them to place an order and communication is great with any questions we have. Highly recommend them."
Jim R., Government
"Easy process and great people to work with."
Richard Z., Military
"I'm very satisfied with your service. Always looking forward to bring the best!"
Ramses Z., Medical Devices
"JN White is very responsive to their customers. Product is delivered as expected...and they provide quality products. They have a clear understanding of the obstacles facing US based customers regarding the entire supply chain."
Bob M., Point of Sale
"We always deal with Steve Matacz. He is the best at making sure all details are perfect. Timely communication with any questions we have."
Paul A., Recreational
"Customer response time is one of the best; always prompt and helpful. On-time performance the last 12 months is 100%."
RoseMarie C., Utilities
"Customer service, quality and lead time are great! No complaints."
Sara H., Medical Devices