Agricultural Membrane Switch Capabilities
Durable Materials
The Agricultural industry relies on durable components for a high-quality piece of equipment. These devices need to work and be reliable for years at a time, even as they are used on a daily or even hourly basis.
This means components need to have that same level of durability. Buttons and switches that are pushed require lifetime actuation, and materials and graphic overlays need to withstand a range of environments, moisture, and perhaps even chemical cleaners. Material selection is critical, and we have a great deal of expertise in this area after working for years in the industrial electronics industry.
Our engineers work closely with our customers to determine the best option based on their unique applications, product requirements, and budgetary constraints.
Tactile Feedback
Tactile feedback is also of very high importance in agricultural applications. Examples include communication devices, diagnostic instruments, temperature and moisture sensors, and communication systems—all of which need customized control systems.
In addition to providing critical tactile feedback, agricultural membrane switches must also be able to withstand harsh environmental factors. Membrane switches in this field are often operated by heavily gloved hands. As a result, agricultural devices are typically designed with metal domes to accommodate the higher force needed to emit the intended feedback.
Backlighting
On a daily basis, we work with custom color LEDs, fiber-optic panels, diffusion materials, and opacity solutions including black gasketing materials to provide precise control of lighting panels. Our engineers can help you select the backlighting system that is ideal for your product, delivering assemblies that help drive great brand impressions and meet critical design goals.
Manufacturing quality
We're equipped with the latest printing technology, manned by trained experts, and backed by some of the most inventive minds in the industry. But it's our unyielding dedication to quality and confidentiality that has earned us our certifications, awards, and customer loyalty. So give us your thundering timelines, your impossible quantities, your application quandaries—and we'll give you precisely what you need.
See Our Work in the Agriculture Industry
SUPPLY CHAIN MANAGEMENT
A major power management company was in the process of acquiring smaller competitors. All versions of the key user interfaces on the product needed to be transitioned to the new corporate brand identity. With the firm's rapid expansion, the internal team needed a seamless solution that would allow them to focus on other initiatives, while maintaining confidence in the effectiveness of their key product's brand transitioning. JN White® developed a supply chain management solution that afforded many benefits to the customer including: cost reduction, seamless coordination and shorter turn times for completed total complex assemblies.
REENGINEERED INTEGRATED SEGMENT DISPLAY
The customer approached JN White® for help in reengineering an integrated segmented display for an existing product. They needed to improve the user experience by creating display and interface buttons that were easier to read in even the brightest of environments. In addition, the new product needed to eliminate the sharp edges that were lifting and separating on the existing product. Reengineering a complex product such as this required a cutting-edge engineering team with a great deal of expertise in electromechanical manufacturing. After extensive collaboration and numerous iterations, the JN White team delivered a single domestically sourced and completely redesigned unit that meets the customer's rigorous and specific requirements. The new unit functions properly and effectively, greatly enhancing the overall end user experience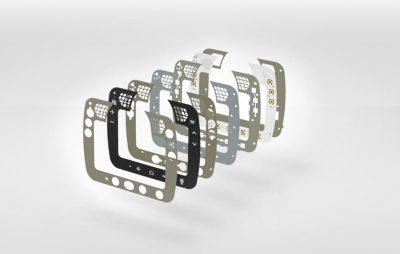 Turn Your Concept Into A Prototype
Get complete production-quality products for testing before committing to full production.
"Very pleased with your team's response to our need during the COVID-19 crisis."
Lisa L., Medical Device
"JN White has been exceptional in working with our company in order to develop the look and feel of our new MRI patient worn transmitter. We had originally worked with a prior manufacturer for an earlier version of this product with much less desirable results. JN White delivered a clean professional product at a very reasonable price on time!"
Gary P., Medical
"We had very little information to work with and Jessica James made it nearly effortless on our end to get us exactly what we needed in a timely manner."
Lexi W., Industrial Equipment
"Getting any after-market graphic overlays done always has a certain risk factor in getting it all right. You guys were helpful, patient, & knowledgeable to achieve the best end result. Even pointing out some things that might be [an] oversight or [areas for] improvements. The outcome was perfect."
John S., Technology
"The print task was between the USA and Australia and everything went so smooth. I submitted a drawing, got a return email for me to confirm what I wanted. Even though this was over the Christmas period the print was waiting for me when I got back to work after the holidays. Great job and thanks."
Matt C., Military
"All of the folks there at JN White that I have talked to and dealt with have been very nice and professional."
Vern L., Industrial
"Customer service is wonderful. Receive confirmations and responses in a timely manner. Product has great quality."
Sara H., Medical
"It has been a pleasure working with JN White. We switched suppliers for some of our products to your company and you have given us higher quality. Excellent work!"
Roger W., Education
"I feel confident that JN White will do my order correctly."
Marie P., Government
"I found working with Sara to be a pleasant experience. We were trying to dial in the color to get just the right look on the printed substrate...Sara sent us a sample print sheet that had several variations, up and down, from the colors we specified, which allowed me to pick exactly the color we wanted. The end result product is perfect!"
Don M., Safety
"Our department has used JN White for a number of years for our inspection labels. They always respond very quickly when we contact them to place an order and communication is great with any questions we have. Highly recommend them."
Jim R., Government
"Easy process and great people to work with."
Richard Z., Military
"I'm very satisfied with your service. Always looking forward to bring the best!"
Ramses Z., Medical Devices
"JN White is very responsive to their customers. Product is delivered as expected...and they provide quality products. They have a clear understanding of the obstacles facing US based customers regarding the entire supply chain."
Bob M., Point of Sale
"We always deal with Steve Matacz. He is the best at making sure all details are perfect. Timely communication with any questions we have."
Paul A., Recreational
"Customer response time is one of the best; always prompt and helpful. On-time performance the last 12 months is 100%."
RoseMarie C., Utilities
"Customer service, quality and lead time are great! No complaints."
Sara H., Medical Devices