On a daily basis, we work with custom color LEDs, fiber-optic panels, diffusion materials, and opacity solutions including black gasketing materials to provide precise control of lighting panels. Our engineers can help you select the backlighting system that is ideal for your product, delivering assemblies that help drive a great brand impressions and meet critical design goals.
Not Just One Backlighting Solution
Light Emitting Diodes (LEDs)
LEDs provide a huge range of options for design engineers – traditional, side firing, NVIS, and multi-color (bi-color and tri-color). They are reliable, affordable, and compact, so they are also very common. The challenge is to use them to their best advantage. We can help you manage the bright (Hot) spots that can arise from these single point sources by introducing diffusing layers and customized graphics and materials into the assembly.
Fiber Optics
Our engineers are well versed in both traditional and woven flat panel applications. These fiber optic technologies allow our customers to illuminate key areas of a panel or switch with fewer LED's, resulting in reduced power consumption. Depending on the application, we can help design solutions that strike the balance between precision lighting, compact, low profile assemblies, and cost-effective components.
Light Guide Films
Light Guide Films, or Light Guide Layer (LGL) technologies, can serve as an economical alternative to woven flat panel fiber optics. Using LGL, we imprint light-diffusing plastic materials in a manner that manages and directs light to specific areas and in precise ways. It can be a very affordable approach, especially when you work with a supplier experienced with these technologies. It also provides a great deal of control and flexibility for design engineers looking to optimize the user experience.
Custom Silicone Membrane Layers
Also referred to as light piping, this approach can be a smart solution for delivering light to a membrane switch or other user interface assembly. Custom silicone membrane layers are highly efficient, and offer a range of options for managing and directing backlighting. We offer a wide variety of standard light pipe techniques as well as custom solutions made from select materials that can optimize performance based on your unique application.
Solid State Electroluminescent (EL) Lamps
These are typically assembled with a graphic overlay over an EL panel. The light is smooth and even, the lamps are thin and compact, and there is minimal heat leakage. Their AC/DC power requirements need to be supported, so they aren't ideal for every application, but our engineers have the experience and know-how necessary to identify when EL is the right solution.
NVIS LEDs
NVIS LEDs are a type of LED (light-emitting diode) that are specifically designed for night vision imaging systems (NVIS). Military, Law Enforcement, and Search and Rescue personnel using night vision goggles (NVG) must be able to read illuminated displays without the displays interfering with the performance of the goggles. The displays must also be readable to those not using night vision.
NVIS LEDs can be easily incorporated into various components such as instrument clusters, indicators, panels, buttons and switches. These LEDs are more resilient than traditional displays and consume less power due to their reduced luminance requirements.
They are typically used in military and aerospace applications, where maintaining the ability to see in low-light or no-light environments is critical to mission success. These specialized LEDs are designed to emit light in a specific wavelength range and are carefully calibrated to meet the strict requirements of various military and industry standards.
Check Out Our New Power Pack Samples!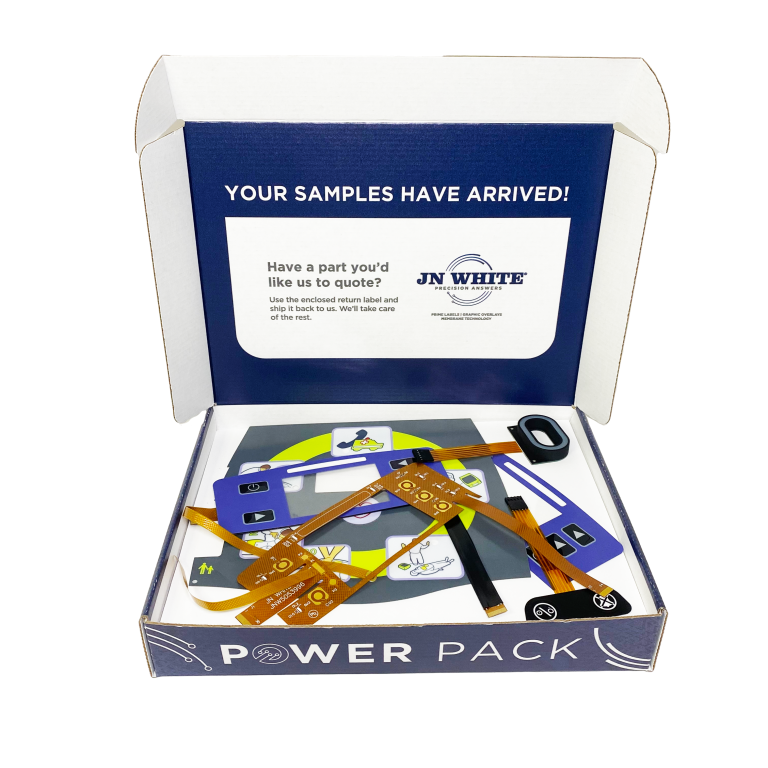 We have compiled a variety of our most versatile membrane switches and unique samples that you can feel and interact with, free of charge. See first-hand the quality, function and durability these highly customizable switches provide users. Request a Power Pack today!
See What Our Customers Are Saying
"Very pleased with your team's response to our need during the COVID-19 crisis."
Lisa L., Medical Device
"JN White has been exceptional in working with our company in order to develop the look and feel of our new MRI patient worn transmitter. We had originally worked with a prior manufacturer for an earlier version of this product with much less desirable results. JN White delivered a clean professional product at a very reasonable price on time!"
Gary P., Medical
"We had very little information to work with and Jessica James made it nearly effortless on our end to get us exactly what we needed in a timely manner."
Lexi W., Industrial Equipment
"Getting any after-market graphic overlays done always has a certain risk factor in getting it all right. You guys were helpful, patient, & knowledgeable to achieve the best end result. Even pointing out some things that might be [an] oversight or [areas for] improvements. The outcome was perfect."
John S., Technology
"The print task was between the USA and Australia and everything went so smooth. I submitted a drawing, got a return email for me to confirm what I wanted. Even though this was over the Christmas period the print was waiting for me when I got back to work after the holidays. Great job and thanks."
Matt C., Military
"All of the folks there at JN White that I have talked to and dealt with have been very nice and professional."
Vern L., Industrial
"Customer service is wonderful. Receive confirmations and responses in a timely manner. Product has great quality."
Sara H., Medical
"It has been a pleasure working with JN White. We switched suppliers for some of our products to your company and you have given us higher quality. Excellent work!"
Roger W., Education
"I feel confident that JN White will do my order correctly."
Marie P., Government
"I found working with Sara to be a pleasant experience. We were trying to dial in the color to get just the right look on the printed substrate...Sara sent us a sample print sheet that had several variations, up and down, from the colors we specified, which allowed me to pick exactly the color we wanted. The end result product is perfect!"
Don M., Safety
"Our department has used JN White for a number of years for our inspection labels. They always respond very quickly when we contact them to place an order and communication is great with any questions we have. Highly recommend them."
Jim R., Government
"Easy process and great people to work with."
Richard Z., Military
"I'm very satisfied with your service. Always looking forward to bring the best!"
Ramses Z., Medical Devices
"JN White is very responsive to their customers. Product is delivered as expected...and they provide quality products. They have a clear understanding of the obstacles facing US based customers regarding the entire supply chain."
Bob M., Point of Sale
"We always deal with Steve Matacz. He is the best at making sure all details are perfect. Timely communication with any questions we have."
Paul A., Recreational
"Customer response time is one of the best; always prompt and helpful. On-time performance the last 12 months is 100%."
RoseMarie C., Utilities
"Customer service, quality and lead time are great! No complaints."
Sara H., Medical Devices