Graphic Overlays with JN White®
Graphic overlays, faceplates, dead front panels, and functional user interface panels are common terms used to describe the same product.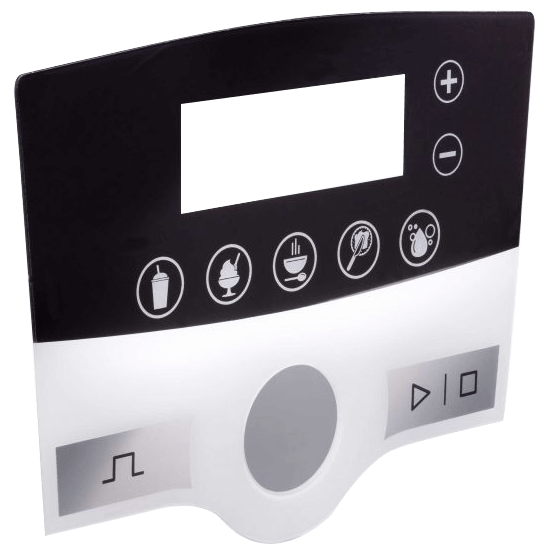 Prioritizing Durability & Design
Besides being the surface interface between your product and its user, graphic overlays protect the membrane switch underneath, and are often subject to harsh environments and/or chemicals.  This means your overlay requires careful consideration of material and adhesive properties.
They are often made from polycarbonate or polyester, and may include embossed buttons, integrated display windows, integrated shielding, and brand elements including color and graphics.
These all contribute to the user experience with the membrane switch, product, and brand.
At JN White®, we customize every overlay to operate reliably under any condition, including: extreme temperature, exposure to dirt, sand, dust and debris, humidity/water, UV rays, chemicals, and more.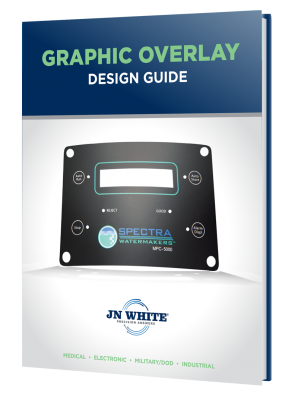 Design Your Own Graphic Overlay
Download our free guide to design your own graphic overlay.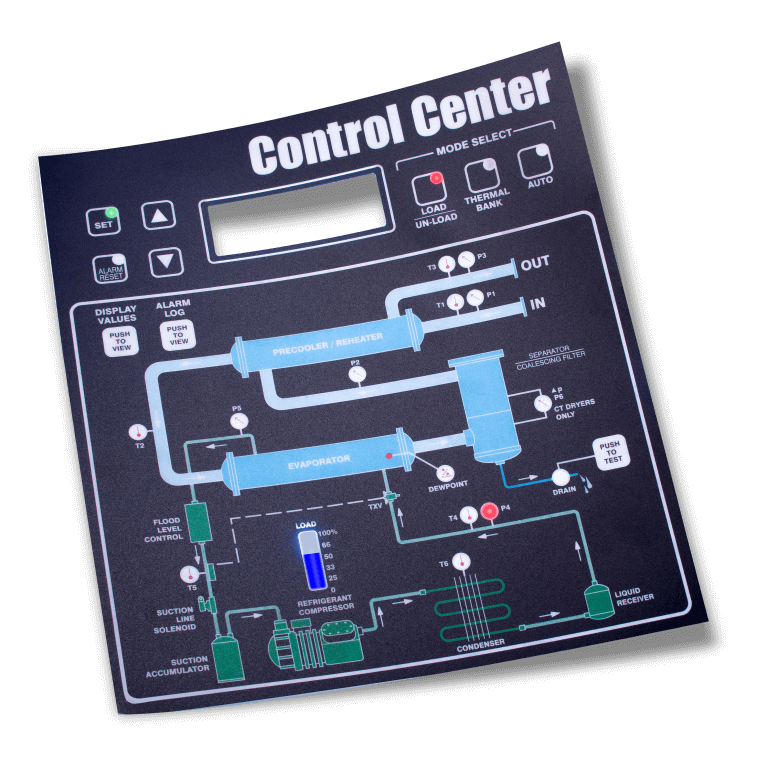 Manufacturing Your Custom Graphic Overlay
There are a number of elements to consider when fabricating your graphic overlay. We are here to help you make the best decisions for your application.


Substrates
The two most common base substrates for custom control panels are polyester and polycarbonate. Polyester materials are incredibly durable, while polycarbonate materials are more workable for processes such as die cutting, embossing, and other physical effects. JN White® also utilizes blended substrates that offer the best properties of both polyester and polycarbonate.
Customizing Your Graphic Overlay Size, Thickness and Placement
It's important to know if there is a required overlay size and where it will be placed on the product's housing. If the graphic overlay will sit within a cavity and needs to lay flush to the housing, thickness is incredibly important. JN White® customizes graphic overlays and dead front displays to any size or shape.
Outstanding Color Control and Exact Graphic Matching
Depending on your product, it may be important that your product's overlay match your brand colors. We can match to a color swatch, a Pantone chip, to your bezel or housing, or other brand elements, and we ensure the results with our calibrated light booth and digital densitometers. We also feature the latest digital printing technologies, allowing you to specify virtually any type of background pattern or look that you are trying to achieve. If you can think it, we can print it!
In-House Embossing
Embossing can dramatically enhance the look and functionality of your graphic overlay, providing a more tactile and responsive user experience. This may be extremely important in certain work environments and can also have implications on the best material to use for a particular graphic overlay. We have the in-house expertise needed to execute pillow, rim, and dome embossing. Plus, we can emboss logos, multi-level shapes, and other unique dimensional elements.
Gaskets, Lenses and Windows
No matter what you need in a window or lens, JN White® specializes in sourcing unique materials to deliver an optically clear final product. And as a 3M preferred converter, we have the ability to laser cut high-end materials to fit any tolerance. From military products that require anti-reflective surfaces to keep the sun out of soldiers' eyes to dermatology lenses used to detect the presence of cancer, we find the exact mix of substrates, films and colors to function flawlessly in any environment.
Adhesive Solutions
Different surface materials have different bonding properties, making it important to know the specifications of your project's housing to determine the most suitable adhesive. Characteristics to consider include surface energy, metal or plastic, smooth or textured, curved or flat, and if there is a powder coating, which is common on painted housings. We have the knowledge and skills on staff to help you to determine the best adhesive solutions.
Desired Finish
By selecting appropriate materials and surface treatments, we help our customers create truly custom user experiences with unique textures and finishes. Whether smooth or textured, matte or glossy, we'll work hand-in-hand to ensure your product's finish look exactly how you want it to.
Surface Affection Testing
Surface affection testing relates to whether a label's surface withstands scratching, chemicals, or other abrasive materials. JN White® performs surface affection testing for all required products, including First Article Inspections (FAIs).
Dead Front Panels
The term dead fronting is used to describe an icon on a graphic overlay that is typically hidden but becomes visible once backlit. Dead front panels are popular in car dashboards (instrumentation cluster) and consumer appliances, like washing machines and dishwashers. JN White® has the capabilities to dead front onto a black or white background with near perfect color precision, including no color shadows, bleeding, or trapping. Read About Dead Front Panels >
We know that you might want to feel and interact with our work before committing to a project with us, which is why we've put together a variety of samples to send to you, free of charge.
Read More on Manufacturing Graphic Overlays
Choosing the Right Features for Your Graphic Overlay
At its most basic, a graphic overlay is the top layer of a user interface panel. But more importantly – and more meaningfully to engineers and brand owners – it is the interface between your customer and the machine.
Why I Love Graphic Overlays (and You Should Too)
Let me start with how I define a graphic overlay. At its essence, it is a printed plastic material. First, we start with a clear material – typically a polycarbonate or polyester. Then we print on the backside (sub-surface). 
Custom Graphic Overlay Case Study
Marine Audio Sound System: Solved
JL Audio, a global electronics manufacturer, approached JN White® for assistance with an electronic graphic overlay solution. The customer needed a thermoformed part that would fit the customer's housing and stay properly bonded. JN White® was able to engineer to the customer's specifications a dome-shaped graphic overlay that successfully met all requirements. In addition, the custom adhesive solution proposed by JN White® successfully holds the overlay in place. The component is in use today on one of the customer's premier marine audio systems.
See What Our Customers Are Saying
"Very pleased with your team's response to our need during the COVID-19 crisis."
Lisa L., Medical Device
"JN White has been exceptional in working with our company in order to develop the look and feel of our new MRI patient worn transmitter. We had originally worked with a prior manufacturer for an earlier version of this product with much less desirable results. JN White delivered a clean professional product at a very reasonable price on time!"
Gary P., Medical
"We had very little information to work with and Jessica James made it nearly effortless on our end to get us exactly what we needed in a timely manner."
Lexi W., Industrial Equipment
"Getting any after-market graphic overlays done always has a certain risk factor in getting it all right. You guys were helpful, patient, & knowledgeable to achieve the best end result. Even pointing out some things that might be [an] oversight or [areas for] improvements. The outcome was perfect."
John S., Technology
"The print task was between the USA and Australia and everything went so smooth. I submitted a drawing, got a return email for me to confirm what I wanted. Even though this was over the Christmas period the print was waiting for me when I got back to work after the holidays. Great job and thanks."
Matt C., Military
"All of the folks there at JN White that I have talked to and dealt with have been very nice and professional."
Vern L., Industrial
"Customer service is wonderful. Receive confirmations and responses in a timely manner. Product has great quality."
Sara H., Medical
"It has been a pleasure working with JN White. We switched suppliers for some of our products to your company and you have given us higher quality. Excellent work!"
Roger W., Education
"I feel confident that JN White will do my order correctly."
Marie P., Government
"I found working with Sara to be a pleasant experience. We were trying to dial in the color to get just the right look on the printed substrate...Sara sent us a sample print sheet that had several variations, up and down, from the colors we specified, which allowed me to pick exactly the color we wanted. The end result product is perfect!"
Don M., Safety
"Our department has used JN White for a number of years for our inspection labels. They always respond very quickly when we contact them to place an order and communication is great with any questions we have. Highly recommend them."
Jim R., Government
"Easy process and great people to work with."
Richard Z., Military
"I'm very satisfied with your service. Always looking forward to bring the best!"
Ramses Z., Medical Devices
"JN White is very responsive to their customers. Product is delivered as expected...and they provide quality products. They have a clear understanding of the obstacles facing US based customers regarding the entire supply chain."
Bob M., Point of Sale
"We always deal with Steve Matacz. He is the best at making sure all details are perfect. Timely communication with any questions we have."
Paul A., Recreational
"Customer response time is one of the best; always prompt and helpful. On-time performance the last 12 months is 100%."
RoseMarie C., Utilities
"Customer service, quality and lead time are great! No complaints."
Sara H., Medical Devices