Graphic Overlays with JN White®
Graphic overlays, faceplates, and functional user interface panels are common terms used to describe the same product.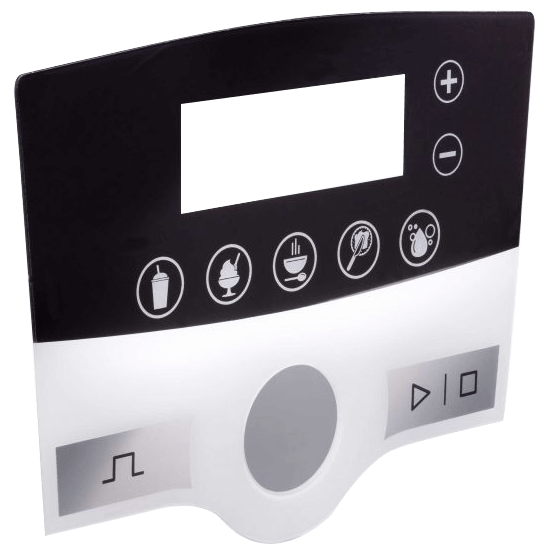 Prioritizing Durability & Design
Besides being the surface interface between your product and its user, graphic overlays protect the membrane switch underneath, and are often subject to harsh environments and/or chemicals.  This means your overlay requires careful consideration of material and adhesive properties.
They are often made from polycarbonate or polyester, and may include embossed buttons, integrated display windows, integrated shielding, and brand elements including color and graphics.
These all contribute to the user experience with the membrane switch, product, and brand.
At JN White®, we customize every graphic overlay to operate reliably under any condition, including: extreme temperature, exposure to dirt, sand, dust and debris, humidity/water, UV rays, chemicals, and more.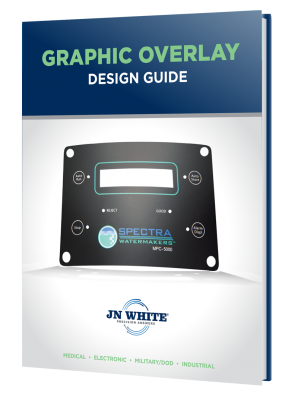 Design Your Own Graphic Overlay
Download our free graphic overlay design guide to design your own graphic overlay.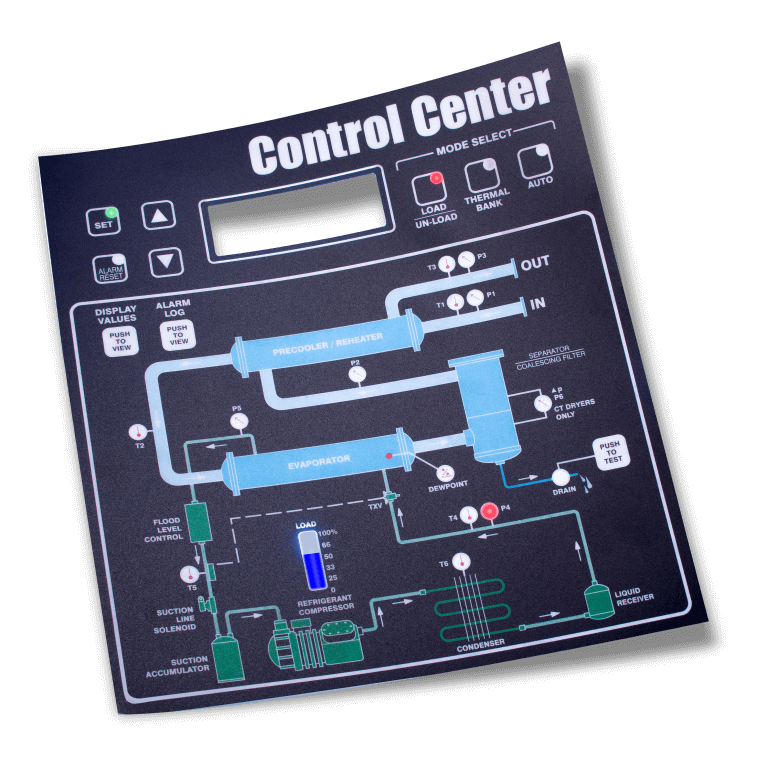 Manufacturing Your Graphic Overlay
There are a number of elements to consider when fabricating your graphic overlay. We are here to help you make the best decisions for your application.


Substrates
The two most common base substrates for graphic overlays are polyester and polycarbonate. Polyester materials are incredibly durable, while polycarbonate materials are more workable for processes such as die cutting, embossing, and other physical effects. JN White® also utilizes blended substrates that offer the best properties of both polyester and polycarbonate.
Customizing Your Graphic Overlay Size, Thickness and Placement
It's important to know if there is a required overlay size and where it will be placed on the product's housing. If the graphic overlay will sit within a cavity and needs to lay flush to the housing, thickness is incredibly important. JN White® customizes graphic overlays to any size or shape.
Outstanding Color Control and Exact Graphic Matching
Depending on your product, it may be important that your product's overlay match your brand colors. We can match to a color swatch, a Pantone chip, to your bezel or housing, or other brand elements, and we ensure the results with our calibrated light booth and digital densitometers. We also feature the latest digital printing technologies, allowing you to specify virtually any type of background pattern or look that you are trying to achieve. If you can think it, we can print it!
In-House Embossing
Embossing can dramatically enhance the look and functionality of your graphic overlay, providing a more tactile and responsive user experience. This may be extremely important in certain work environments and can also have implications on the best material to use for a particular graphic overlay. We have the in-house expertise needed to execute pillow, rim, and dome embossing. Plus, we can emboss logos, multi-level shapes, and other unique dimensional elements.
Gaskets, Lenses and Windows
No matter what you need in a window or lens, JN White® specializes in sourcing unique materials to deliver an optically clear final product. And as a 3M preferred converter, we have the ability to laser cut high-end materials to fit any tolerance. From military products that require anti-reflective surfaces to keep the sun out of soldiers' eyes to dermatology lenses used to detect the presence of cancer, we find the exact mix of substrates, films and colors to function flawlessly in any environment.
Adhesive Solutions
Different surface materials have different bonding properties, making it important to know the specifications of your project's housing to determine the most suitable adhesive. Characteristics to consider include surface energy, metal or plastic, smooth or textured, curved or flat, and if there is a powder coating, which is common on painted housings. We have the knowledge and skills on staff to help you to determine the best adhesive solutions.
Desired Finish
By selecting appropriate materials and surface treatments, we help our customers create truly custom user experiences with unique textures and finishes. Whether smooth or textured, matte or glossy, we'll work hand-in-hand to ensure your product's finish look exactly how you want it to.
Surface Affection Testing
Surface affection testing relates to whether a label's surface withstands scratching, chemicals, or other abrasive materials. JN White® performs surface affection testing for all required products, including First Article Inspections (FAIs).
Request a Sample Pack of Graphic Overlays
We know that you might want to feel and interact with our work before committing to a project with us, which is why we've put together a variety of samples to send to you, free of charge.
Read More on Manufacturing Graphic Overlays
Choosing the Right Features for Your Graphic Overlay
At its most basic, a graphic overlay is the top layer of a user interface panel. But more importantly – and more meaningfully to engineers and brand owners – it is the interface between your customer and the machine.
Why I Love Graphic Overlays (and You Should Too)
Let me start with how I define a graphic overlay. At its essence, it is a printed plastic material. First, we start with a clear material – typically a polycarbonate or polyester. Then we print on the backside (sub-surface). 
Custom Graphic Overlay Case Study
Marine Audio Sound System: Solved
JL Audio, a global electronics manufacturer, approached JN White® for assistance with an electronic graphic overlay solution. The customer needed a thermoformed part that would fit the customer's housing and stay properly bonded. JN White® was able to develop a dome-shaped graphic overlay that successfully met all requirements. In addition, the custom adhesive solution proposed by JN White® successfully holds the overlay in place. The component is in use today on one of the customer's premier marine audio systems.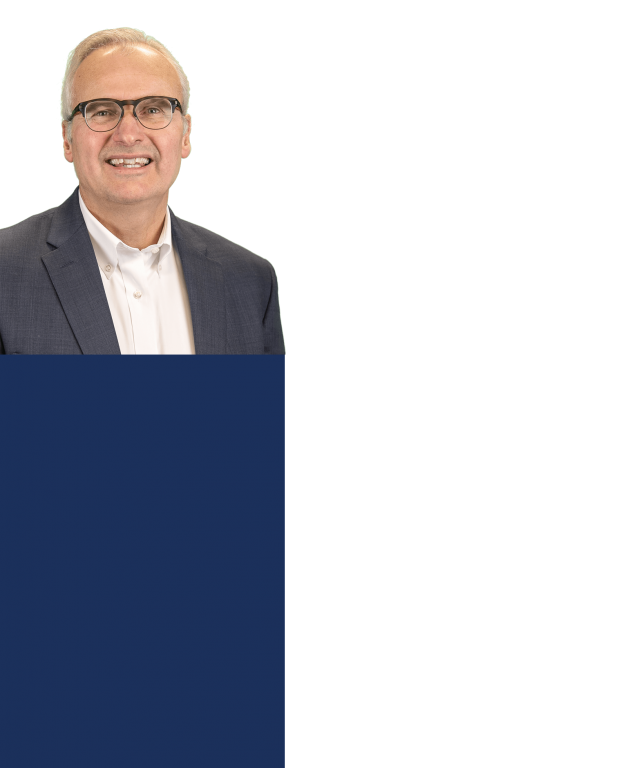 Sign up for tips from our interface guru,
Ken Boss.
Fill out this short form and we'll send occasional and useful interface tips directly to your inbox.
See What Our Customers Are Saying
"We always deal with Steve Matacz. He is the best at making sure all details are perfect. Timely communication with any questions we have."
Paul A., Recreational
"Customer response time is one of the best; always prompt and helpful. On-time performance the last 12 months is 100%."
RoseMarie C., Utilities
"Customer service, quality and lead time are great! No complaints."
Sara H., Medical Devices
We had been getting labels from a small, local supplier. Then we had a UL audit and the Inspector found that the labels should have been manufactured per UL approved constructions. She asked me what other label manufacturers use and I said, 'JN White®,' to which she immediately said, 'use them!' She didn't have to look them up or anything.
Brian B., Manufacturing
JN White® does an excellent job in regards to the quality of their product! They are a good, responsive company that takes care of its customers and, if there does happen to be an issue, is quick to rectify the problem and make it right.
Steve L., Fitness Equipment
The JN White® team handling our account makes my day much easier. Communication is clear and timely on everything from quotes to pull-ins. Rarely does any item coming from JN White® end up being an issue. I am very satisfied with the level of attention and effort that they put in on a daily basis.
Ian M., Communications
Doug and Jaime suggested an alternative  to the present (3rd party) water jet cutting of our product. JN White's® plotter cutting resulted in a superior finish and reduced cost with the entire production process being done at one supplier. Great work!
Roger W., Home Products
Every aspect, from concept to quote, to proof and the final product, is handled very quickly and the end product is always excellent.
Connor B., Homegoods