Medical Device User Interface Capabilities
Durable Materials
We frequently work with durable materials that can resist high-volume actuations and surface wear, as well as constant cleaning with chemicals and solvents. Textured polyester graphic overlays with subsurface control graphics work very well in medical device applications.
Antimicrobial Properties
A new generation of plastics has been specially designed for hospitals and similar environments and feature chemistries that make them resistant to bacteria, viruses, and other dangerous microbes.
Standard Controls
To improve usability, we've found it preferable to stick with standard or previously approved designs. By presenting controls that medical personnel are already familiar with, we can help them avoid potentially dangerous operational mistakes. For new products and new user interface designs, we typically develop fully functioning prototypes for usability testing, allowing engineers to assess the true impact of the control units they are proposing.
Clear Feedback
Just as important as the design and layout of the controls is the tactile and visual feedback provided by the medical device. Indicator lights, LED screens, and embossed and/or domed actuators all contribute to this element of the user interface design.
Visual Impact
The design of the user interface can also have a powerful impact on both your brand and the buying cycle. While functionality is the paramount concern, buyers and recommenders can still be influenced by impactful visuals, compelling graphics, and a premium high-tech look. We can help you implement the ideal mix of textures, finishes, and colors. You can stay on-brand, on-market, and project exactly the image you require. Digital printing offers additional, highly cost-effective design options, as we can print true photographic images and create nearly any look.
Manufacturing Quality
By their very nature, medical devices are operating in potentially life-impacting situations. This means they must be 100% reliable.  At just 99.9% reliability, 20,000 incorrect drug prescriptions will be written each year and 291 pacemaker operations will be performed incorrectly.* We have a lot of experience with this requirement; we specify quality components, follow strict process control procedures, perform rigorous testing, and adhere to the highest manufacturing standards to ensure the membrane switch assemblies in your devices deliver that high level of reliability this market demands.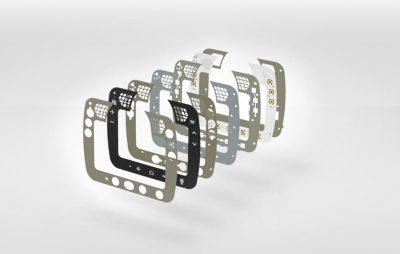 Turn Your Concept Into A Prototype
Get complete production-quality products for testing before committing to full production.
FDA Labeling for Medical Devices
Medical device labels must hold up, and so we use superior substrates and processes to make sure they do just that. We're a leading ISO 9001:2015 certified label and component manufacturer, so you can rest assured our products are worthy of yours. We also have extensive knowledge and experience producing FDA-compliant Unique Device Identification (UDI) labels.
Starting in 2013, the US Food & Drug Administration (FDA), the European Commission (CE), and other regulating bodies established new labeling requirements for medical devices. These are the Unique Device Identification, or UDI, requirements.
The goal is to increase patient safety, increase supply chain efficiencies, and improve the traceability of medical devices. These regulations were phased in over time, with all three levels of medical devices – Class III, Class II, and Class I – now in place.
As with many government regulations, the onus is on manufacturers of medical devices to ensure compliance. As one customer told us, "we don't want to be in the label compliance business, but now we have to be – so help us make it as streamlined and painless as possible."
At JN White®, we work closely with our customers' engineers to produce and test combinations of digitally printed labels using sub-surface printing, top surface printing, clear varnishes, clear overlaminates, and other techniques. We then perform the testing necessary to determine which material and design combination grades out the best versus the product requirements. All of this is documented appropriately so that you can go into the accredited agency's portal and register these parts more quickly and easily since all the information is organized for you.
Working with experts is imperative in this new world of UDI labeling. If you are just starting, we can help you learn more about it. Understand the codes, make sense of the regulations, and do it right.
See Our Work in the Medical Space
DURABLE MEDICAL CUSTOM MEMBRANE SWITCH
A medical device manufacturer was experiencing durability issues and failures with an important custom membrane switch in the controller of a sophisticated surgical device. The JN White® team applied their extensive experience in medical device design to develop a custom membrane keypad that met all necessary requirements.
UDI LABEL CASE STUDY
A long-term medical device customer needed to transition the labeling on products to new UDI labels that met specific FDA requirements. The deadline for the transition was quickly approaching, so they reached out to JN White® to help them develop and execute the transition to the new labels in a timeline manner.
"Very pleased with your team's response to our need during the COVID-19 crisis."
Lisa L., Medical Device
"JN White has been exceptional in working with our company in order to develop the look and feel of our new MRI patient worn transmitter. We had originally worked with a prior manufacturer for an earlier version of this product with much less desirable results. JN White delivered a clean professional product at a very reasonable price on time!"
Gary P., Medical
"We had very little information to work with and Jessica James made it nearly effortless on our end to get us exactly what we needed in a timely manner."
Lexi W., Industrial Equipment
"Getting any after-market graphic overlays done always has a certain risk factor in getting it all right. You guys were helpful, patient, & knowledgeable to achieve the best end result. Even pointing out some things that might be [an] oversight or [areas for] improvements. The outcome was perfect."
John S., Technology
"The print task was between the USA and Australia and everything went so smooth. I submitted a drawing, got a return email for me to confirm what I wanted. Even though this was over the Christmas period the print was waiting for me when I got back to work after the holidays. Great job and thanks."
Matt C., Military
"All of the folks there at JN White that I have talked to and dealt with have been very nice and professional."
Vern L., Industrial
"Customer service is wonderful. Receive confirmations and responses in a timely manner. Product has great quality."
Sara H., Medical
"It has been a pleasure working with JN White. We switched suppliers for some of our products to your company and you have given us higher quality. Excellent work!"
Roger W., Education
"I feel confident that JN White will do my order correctly."
Marie P., Government
"I found working with Sara to be a pleasant experience. We were trying to dial in the color to get just the right look on the printed substrate...Sara sent us a sample print sheet that had several variations, up and down, from the colors we specified, which allowed me to pick exactly the color we wanted. The end result product is perfect!"
Don M., Safety
"Our department has used JN White for a number of years for our inspection labels. They always respond very quickly when we contact them to place an order and communication is great with any questions we have. Highly recommend them."
Jim R., Government
"Easy process and great people to work with."
Richard Z., Military
"I'm very satisfied with your service. Always looking forward to bring the best!"
Ramses Z., Medical Devices
"JN White is very responsive to their customers. Product is delivered as expected...and they provide quality products. They have a clear understanding of the obstacles facing US based customers regarding the entire supply chain."
Bob M., Point of Sale
"We always deal with Steve Matacz. He is the best at making sure all details are perfect. Timely communication with any questions we have."
Paul A., Recreational
"Customer response time is one of the best; always prompt and helpful. On-time performance the last 12 months is 100%."
RoseMarie C., Utilities
"Customer service, quality and lead time are great! No complaints."
Sara H., Medical Devices