Consumer Appliance Membrane Switch Capabilities
Affordable Durability
One thing that hasn't changed in the appliance industry is the need for durability. These devices need to work and be reliable for years at a time, even if they are used on a daily or hourly basis.
This means the internal components need to have that same level of durability. Buttons and switches that are pushed require lifetime actuation, and materials and graphic overlays need to withstand a range of environments, moisture, and chemical cleaners. Material selection is critical, and we have a great deal of expertise in this area after working for years in the consumer products industry.
Our engineers work closely with our customers to determine the best option based on their unique applications, product requirements, and budgetary constraints.
Visual Differentiation
In today's world, unique appearances are very much in demand. Remember when black was all the rage? Then it was stainless steel and chrome. Now its gunmetal, a black chrome with bluish hues. And a touch of wood grain is always a quick fix to up the luxury appeal of a product.
As different aesthetics become popular, manufacturers must find ways to deliver the latest fashions in the most cost-effective way. We're experienced with different material finishes and ink technologies, allowing us to deliver these unique colors and textures. We source from world-class suppliers to deliver truly beautiful surface finishes. Our engineers will work with you to not only match up with your design goals, but also to share with you the latest and greatest materials, tools, and techniques at your disposal.
Backlighting Innovation
Backlighting can be an extremely effective technique for differentiating yourself in the appliance category. 
One particular challenge we encountered was for a dishwasher project. It involved backlighting a white panel. This is very hard to do, as white materials are typically translucent and can reveal the components underneath when they are backlit. But we were able to introduce different layers of color to mitigate this bleed-through of light, and the results were spectacular.
Color Consistency
Color matching and maintenance can be extremely difficult for manufacturers to manage, especially with whites and custom colors.
Products and components are made all over the world, and then find themselves side by side on showroom floors, in kitchens and laundry rooms, and in commercial operations. If the individual products don't match the group, it presents a bad image of the brand and its attention to detail and quality.
We pride ourselves on the quality of our color matching technologies and processes. We not only ensure consistency with brand standards, but also work through and correct the inevitable run-to-run variations that can impact less rigorous operations.
At JN White®, we rely on two techniques to ensure color accuracy within manufacturer standards. The first is the use of calibrated light booths to make visual assessments and inspections. The second is with a densitometer. This allows you to digitally measure the reflected wavelengths of selected colors to get a very precise result.
See Our Work in the Consumer Appliance Industry
BACKLIT CULINARY APPLIANCE CASE STUDY
A leading consumer appliance firm was experiencing problems with inverting and shifting metal domes on one of its key membrane switch products. JN White® was able to provide a solution to correct the problem. As a result of that successful project, the customer eagerly paired up with JN White® when they experienced their next challenge: the need for a household appliance graphic overlay with backlit LEDs for one of the company's top-of-the-line products.
WEARABLE BIOFEEDBACK DEVICE CASE STUDY
JN White® was able to assist the customer in engineering and producing a product domestically that met all the specific requirements. In addition, JN White® is providing value-added custom assembly support for the charging cables/docs.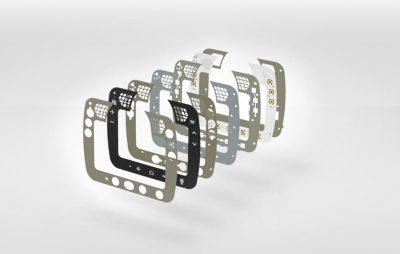 Turn Your Concept Into A Prototype
Get complete production-quality products for testing before committing to full production.
See What Our Customers Are Saying
"Very pleased with your team's response to our need during the COVID-19 crisis."
Lisa L., Medical Device
"JN White has been exceptional in working with our company in order to develop the look and feel of our new MRI patient worn transmitter. We had originally worked with a prior manufacturer for an earlier version of this product with much less desirable results. JN White delivered a clean professional product at a very reasonable price on time!"
Gary P., Medical
"We had very little information to work with and Jessica James made it nearly effortless on our end to get us exactly what we needed in a timely manner."
Lexi W., Industrial Equipment
"Getting any after-market graphic overlays done always has a certain risk factor in getting it all right. You guys were helpful, patient, & knowledgeable to achieve the best end result. Even pointing out some things that might be [an] oversight or [areas for] improvements. The outcome was perfect."
John S., Technology
"The print task was between the USA and Australia and everything went so smooth. I submitted a drawing, got a return email for me to confirm what I wanted. Even though this was over the Christmas period the print was waiting for me when I got back to work after the holidays. Great job and thanks."
Matt C., Military
"All of the folks there at JN White that I have talked to and dealt with have been very nice and professional."
Vern L., Industrial
"Customer service is wonderful. Receive confirmations and responses in a timely manner. Product has great quality."
Sara H., Medical
"It has been a pleasure working with JN White. We switched suppliers for some of our products to your company and you have given us higher quality. Excellent work!"
Roger W., Education
"I feel confident that JN White will do my order correctly."
Marie P., Government
"I found working with Sara to be a pleasant experience. We were trying to dial in the color to get just the right look on the printed substrate...Sara sent us a sample print sheet that had several variations, up and down, from the colors we specified, which allowed me to pick exactly the color we wanted. The end result product is perfect!"
Don M., Safety
"Our department has used JN White for a number of years for our inspection labels. They always respond very quickly when we contact them to place an order and communication is great with any questions we have. Highly recommend them."
Jim R., Government
"Easy process and great people to work with."
Richard Z., Military
"I'm very satisfied with your service. Always looking forward to bring the best!"
Ramses Z., Medical Devices
"JN White is very responsive to their customers. Product is delivered as expected...and they provide quality products. They have a clear understanding of the obstacles facing US based customers regarding the entire supply chain."
Bob M., Point of Sale
"We always deal with Steve Matacz. He is the best at making sure all details are perfect. Timely communication with any questions we have."
Paul A., Recreational
"Customer response time is one of the best; always prompt and helpful. On-time performance the last 12 months is 100%."
RoseMarie C., Utilities
"Customer service, quality and lead time are great! No complaints."
Sara H., Medical Devices