The integration of touchscreens into membrane switches offers a compact and streamlined user interface. The touchscreen component is precisely aligned beneath the membrane switch, ensuring a seamless and cohesive appearance.
Complex user interfaces with touchscreens find application in a wide range of industries and sectors. They are commonly used in medical devices, industrial control panels, consumer electronics, automotive interfaces, and more. The versatility of touchscreen technology combined with the reliability and customization options of membrane switches makes them suitable for diverse applications.

Different Types of Touchscreens
Capacitive touchscreens
Capacitive touchscreens are commonly used in membrane switches due to their high touch sensitivity, multi-touch capabilities, and durability. They operate based on the principles of capacitive sensing, detecting changes in electrical charge when a conductive object (like a finger) comes into contact with the screen. Capacitive touchscreens offer excellent responsiveness and support various gestures like tapping, swiping, and pinch-to-zoom.
Resistive touchscreens
Resistive touchscreens consist of multiple layers, including a flexible top layer and a rigid bottom layer. When pressure is applied to the screen, the layers make contact, registering the touch. They are versatile, affordable, and can be operated with fingers, styluses, or gloves. However, they may lack the precision and multi-touch capabilities found in other technologies.
Projected Capacitive (PCAP) touchscreens 
Projected Capacitive (PCAP) touchscreens feature a glass overlay with a grid of micro-fine wires embedded within. When a finger or conductive object touches the screen, it creates a disruption in the electrical field, allowing for precise touch detection. PCAP touchscreens deliver excellent touch accuracy, support multi-touch gestures, and are highly durable. Projected Capacitive touch screens can register multiple simultaneous touch commands whereas surface capacitive touchscreens can only register a single touch. They are commonly used in smartphones, tablets, and high-end touch displays.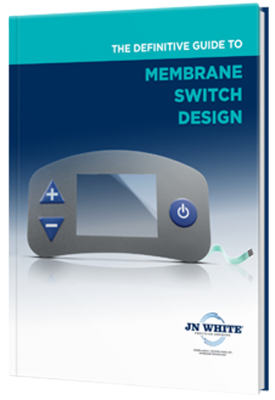 Design Your Own Membrane Switch
Download our free design guide to design your own membrane switch.

Choosing the Right Touchscreen for Your Needs
Application
Understand the specific requirements of your application. Consider factors such as the intended use, environment, desired touch sensitivity, durability, and expected user interactions. Determine if the touchscreen needs to support multi-touch gestures, work with gloves, or operate in harsh conditions like outdoor or industrial environments. These requirements will help narrow down the suitable touchscreen technologies.
Touch Sensitivity
Consider the level of touch sensitivity required for your application. Capacitive touchscreens offer high sensitivity and support multi-touch gestures, making them suitable for most applications. Resistive touchscreens can be operated with gloves or stylus and may be preferred in certain industrial environments.
Durability & Environmental
Assess the durability and environmental requirements of your project. If the touchscreen will be subjected to harsh conditions such as extreme temperatures, moisture, or exposure to liquids, opt for ruggedized or waterproof touchscreens. Consider the durability of the touchscreen surface, resistance to scratches, and the expected lifespan of the technology.
Size & Resolution
Evaluate the resolution and accuracy of the touchscreen. Higher resolutions provide better touch precision and more accurate tracking. This is especially important for applications that require fine details or precise touch inputs. Consider the pixel pitch or the number of touch points that can be accurately detected simultaneously (multi-touch capability) based on your application needs.
Prototyping
Conduct testing and rapid prototyping to evaluate the performance and suitability of the touchscreen for your specific application. This can help uncover any compatibility issues, assess the user experience, and validate the touchscreen's functionality before making a final decision.

At JN White, we understand the importance of seamless user experiences and efficient interface design. That's why we leverage the power of Optically Clear Adhesive (OCA) to adhere our membrane switches to touchscreens, offering a multitude of benefits for our customers.
Optically Clear Adhesive (OCA), is a highly transparent adhesive material used in bonding applications. It is specifically designed to provide a crystal-clear optical bond between two surfaces, such as a membrane switch and a touchscreen. OCA offers exceptional transparency and optical clarity, allowing for a vivid and unobstructed viewing experience. The ultra-thin nature of OCA helps maintain the sensitivity and responsiveness of touchscreens. The adhesive provides a direct interface between the user's touch and the underlying electronics, resulting in accurate and precise touch inputs.
Our expert assembly technicians carefully apply OCA in a controlled environment, ensuring precise alignment and optimal performance. This meticulous process guarantees that our membrane switches seamlessly integrate with touchscreens, resulting in a smooth and responsive user interface.
At JN White, we specialize in delivering exceptional complex user interfaces with touchscreen assemblies. With years of experience in the industry, we have amassed a wealth of knowledge and expertise in designing and assembling complex user interfaces with touchscreen technology. Our dedicated team of professionals has successfully executed numerous projects, delivering innovative and functional solutions across a wide range of industries.
To deliver superior results, we leverage cutting-edge technology and adhere to the highest quality standards. We stay up to date with the latest advancements in touchscreen technology, ensuring that our solutions incorporate the most innovative and reliable components.
Check Out Our New Power Pack Samples!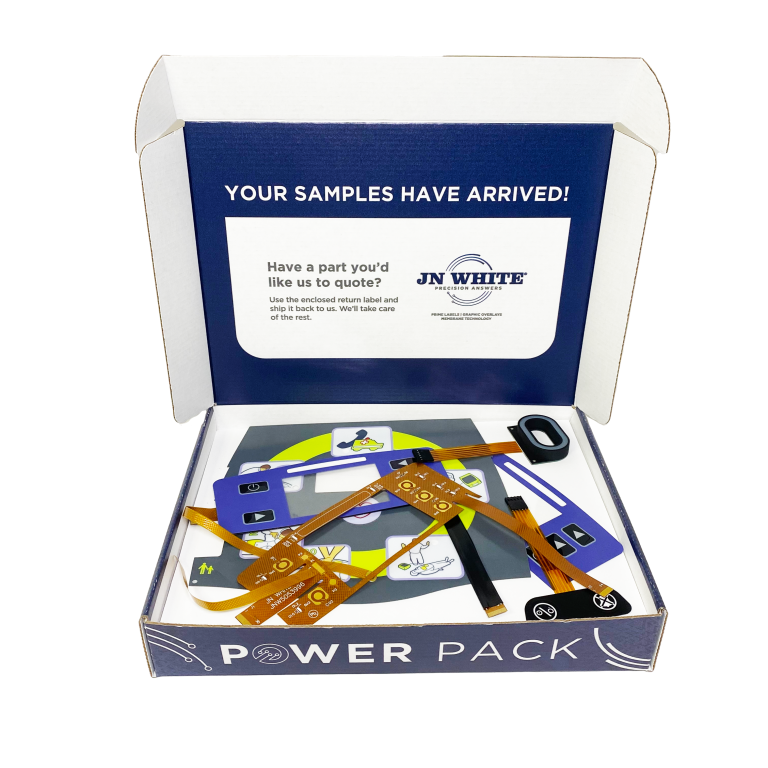 We have compiled a variety of our most versatile membrane switches and unique samples that you can feel and interact with, free of charge. See first-hand the quality, function and durability these highly customizable switches provide users. Request a Power Pack today!
Hear What Our Customers Say
"Very pleased with your team's response to our need during the COVID-19 crisis."
Lisa L., Medical Device
"JN White has been exceptional in working with our company in order to develop the look and feel of our new MRI patient worn transmitter. We had originally worked with a prior manufacturer for an earlier version of this product with much less desirable results. JN White delivered a clean professional product at a very reasonable price on time!"
Gary P., Medical
"We had very little information to work with and Jessica James made it nearly effortless on our end to get us exactly what we needed in a timely manner."
Lexi W., Industrial Equipment
"Getting any after-market graphic overlays done always has a certain risk factor in getting it all right. You guys were helpful, patient, & knowledgeable to achieve the best end result. Even pointing out some things that might be [an] oversight or [areas for] improvements. The outcome was perfect."
John S., Technology
"The print task was between the USA and Australia and everything went so smooth. I submitted a drawing, got a return email for me to confirm what I wanted. Even though this was over the Christmas period the print was waiting for me when I got back to work after the holidays. Great job and thanks."
Matt C., Military
"All of the folks there at JN White that I have talked to and dealt with have been very nice and professional."
Vern L., Industrial
"Customer service is wonderful. Receive confirmations and responses in a timely manner. Product has great quality."
Sara H., Medical
"It has been a pleasure working with JN White. We switched suppliers for some of our products to your company and you have given us higher quality. Excellent work!"
Roger W., Education
"I feel confident that JN White will do my order correctly."
Marie P., Government
"I found working with Sara to be a pleasant experience. We were trying to dial in the color to get just the right look on the printed substrate...Sara sent us a sample print sheet that had several variations, up and down, from the colors we specified, which allowed me to pick exactly the color we wanted. The end result product is perfect!"
Don M., Safety
"Our department has used JN White for a number of years for our inspection labels. They always respond very quickly when we contact them to place an order and communication is great with any questions we have. Highly recommend them."
Jim R., Government
"Easy process and great people to work with."
Richard Z., Military
"I'm very satisfied with your service. Always looking forward to bring the best!"
Ramses Z., Medical Devices
"JN White is very responsive to their customers. Product is delivered as expected...and they provide quality products. They have a clear understanding of the obstacles facing US based customers regarding the entire supply chain."
Bob M., Point of Sale
"We always deal with Steve Matacz. He is the best at making sure all details are perfect. Timely communication with any questions we have."
Paul A., Recreational
"Customer response time is one of the best; always prompt and helpful. On-time performance the last 12 months is 100%."
RoseMarie C., Utilities
"Customer service, quality and lead time are great! No complaints."
Sara H., Medical Devices