About Silver Conductive Ink on Non-Tactile Membrane Switches
This three-layer switch, comprised of a graphic overlay, a circuit spacer, and a screen-printed silver ink circuit, is the simplest type of membrane switch. Because they tend to be the least expensive option, they are often implemented as a cost-cutting measure in the overall design. However, because there is no tactile feel when these circuits are actuated, there is often a sound or light component put it place to indicate activation. Depending on the device and the design, electronic shielding techniques may also need to be incorporated.
Advantages
Smaller Number of Components
Affordability
Long Lifespan (up to 1 million actuations)
Disadvantages
Less Trace Precision (1 mm minimum pitch)
Less Design Flexibility
No Tactile Feedback
Graphic Overlay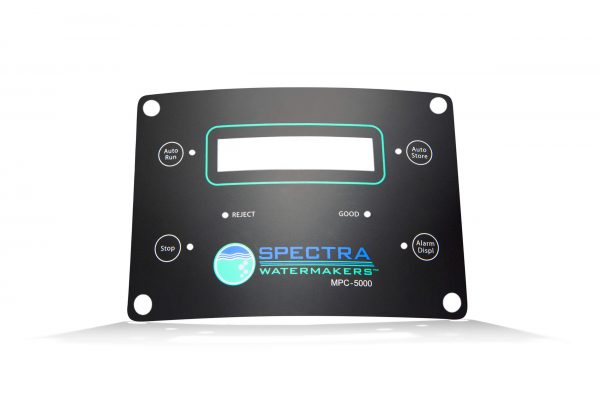 The overlay is the top layer of a membrane switch and is the interface between you and the machine. The overlay creates the look and feel for your product. Graphic overlays can be made of polycarbonate, polyester or acrylic materials in various gloss levels, textures, pencil hardness and gages to meet your needs.
Two of the most important issues to consider with graphic overlays are durability and environmental concerns. It is essential to choose a material that will outlive your application requirements. Polycarbonate offers more flexibility with regard to design and processing. However, polyester is more durable due to its dimensionally stable properties.
Circuit Spacer
Non-tactile membrane switches can be designed with a wide range of actuation forces. The actuation force is determined by the circuit spacer thickness. The thicker the spacer, the more actuation force is required. Conversely, the thinner the spacer, the less the actuation force. If required, a non-tactile membrane switch can be designed as thin as .021".
Adhesives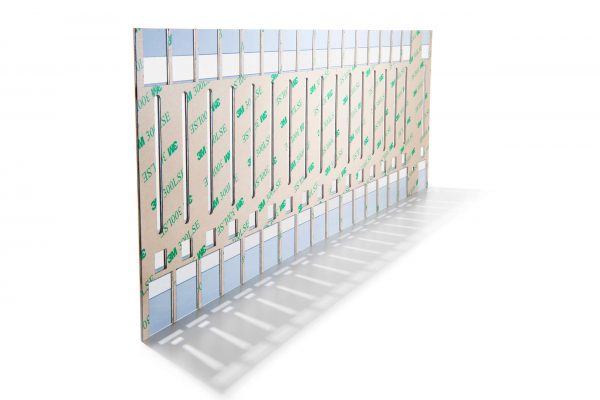 Selecting the proper adhesive for a membrane switch application requires consideration of environment, surface, appearance, and other performance requirements.
Surface contact is fundamental to adhesive performance. The strength of the bond is determined by the surface energy. High surface energy materials (like an un-waxed car) are very easy to adhere to. For low surface energy materials (which are more like a highly waxed car), special adhesives with flow agents are typically required to enhance both the initial bond and the long-term hold.
Other factors to consider when selecting an adhesive technique include whether the surface is textured or smooth, flat or curved, and painted or unfinished.
Silver PET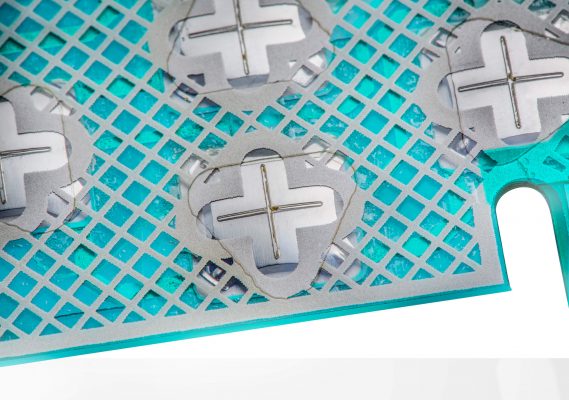 The circuity in this simplest of membrane switches typically consists of conductive silver screen-printed onto an underlying flexible surface, such as polyester. This approach is very simple, which makes it easier to design and produce, and therefore less expensive than copper flex or PCBA circuit layers.
When printed on .005 polyester, conductive silver ink's resistance range is <10 ohms to 100 ohms with a rating of 30 volts DC. These electrical properties are a key factor when determining whether screen-printed silver will be suitable for your specific project since silver-printed circuits are for low-voltage applications only.
Different conductive and dielectric inks are available to help engineers specify and manage these electrical properties more precisely.
Shielding
A good membrane switch manufacturer can recommend and design the proper shielding to meet your ESD, EMI, or RFI requirements.
Most use two methods for shielding membrane switches: 1) copper or aluminum foil with or without laminated polyester to the second surface, or 2) screen printed conductive silver ink in a grid or complete coating on the first surface.
There are three common methods for grounding shields: 1) a tab can be attached to a stud or standoff on the metal backer or the metal enclosure, 2) the shield can be terminated into the pins of the membrane switch tail, or 3) the shield layer is wrapped around the membrane switch and ground to the enclosure.
"Very pleased with your team's response to our need during the COVID-19 crisis."
Lisa L., Medical Device
"JN White has been exceptional in working with our company in order to develop the look and feel of our new MRI patient worn transmitter. We had originally worked with a prior manufacturer for an earlier version of this product with much less desirable results. JN White delivered a clean professional product at a very reasonable price on time!"
Gary P., Medical
"We had very little information to work with and Jessica James made it nearly effortless on our end to get us exactly what we needed in a timely manner."
Lexi W., Industrial Equipment
"Getting any after-market graphic overlays done always has a certain risk factor in getting it all right. You guys were helpful, patient, & knowledgeable to achieve the best end result. Even pointing out some things that might be [an] oversight or [areas for] improvements. The outcome was perfect."
John S., Technology
"The print task was between the USA and Australia and everything went so smooth. I submitted a drawing, got a return email for me to confirm what I wanted. Even though this was over the Christmas period the print was waiting for me when I got back to work after the holidays. Great job and thanks."
Matt C., Military
"All of the folks there at JN White that I have talked to and dealt with have been very nice and professional."
Vern L., Industrial
"Customer service is wonderful. Receive confirmations and responses in a timely manner. Product has great quality."
Sara H., Medical
"It has been a pleasure working with JN White. We switched suppliers for some of our products to your company and you have given us higher quality. Excellent work!"
Roger W., Education
"I feel confident that JN White will do my order correctly."
Marie P., Government
"I found working with Sara to be a pleasant experience. We were trying to dial in the color to get just the right look on the printed substrate...Sara sent us a sample print sheet that had several variations, up and down, from the colors we specified, which allowed me to pick exactly the color we wanted. The end result product is perfect!"
Don M., Safety
"Our department has used JN White for a number of years for our inspection labels. They always respond very quickly when we contact them to place an order and communication is great with any questions we have. Highly recommend them."
Jim R., Government
"Easy process and great people to work with."
Richard Z., Military
"I'm very satisfied with your service. Always looking forward to bring the best!"
Ramses Z., Medical Devices
"JN White is very responsive to their customers. Product is delivered as expected...and they provide quality products. They have a clear understanding of the obstacles facing US based customers regarding the entire supply chain."
Bob M., Point of Sale
"We always deal with Steve Matacz. He is the best at making sure all details are perfect. Timely communication with any questions we have."
Paul A., Recreational
"Customer response time is one of the best; always prompt and helpful. On-time performance the last 12 months is 100%."
RoseMarie C., Utilities
"Customer service, quality and lead time are great! No complaints."
Sara H., Medical Devices