About Copper Flex Circuits
Unlike screen-printed silver, copper flex circuits are manufactured by laminating copper to an underlying substrate, and then etching that substrate in a way that leaves specific conductive traces. This is a more rigorous process than screen-printing, but it results in a more flexible, more durable, and more precise circuit. In addition, the base material of copper flex circuits is polyimide – a very high temperature substrate that allows you to surface mount components such as LEDs, resistors, and light sensors.
Advantages
Compact Design
Better Electrical Tolerances (less resistance)
Visual and Audible Feedback
Automation Opportunities
Disadvantages
More Advanced Design
Higher Manufacturing Demands
Higher Costs
Copper Flex Circuits are Typically Sourced "Off-Shore"
Base Material
The typical base material for a copper flex circuit is .001″, .002″, .003″ and .005″ polyimide or polyester. Unlike silver flex (which uses a conductive epoxy), these materials will hold up to the robust solder required to attach components.
Copper Flex
The copper can be either .50z, 1.00z, or 2.00z RA or ED copper.
One of the key advantages of copper flex circuitry is the precision it gives engineers when managing the size and space (or pitch) between the conductive traces. With silver, the minimum pitch is 1mm. Meanwhile, the minimum trace width for copper flex is .004″ with a pitch of .004″. This becomes critically important in compact devices where switch size must be as compressed as possible. It is also important when a small connection must be made on the mating PCBA, since surface area is always at a premium on small "mother boards".
Another advantage of copper flex is its ability to withstand bending and creasing. This allows engineers to design extremely compact switch assemblies, leveraging flexible circuits and complex, intricate paths to solve what would otherwise be insurmountable interconnection challenges. The result is reduced weight, reduced size, and reduced overall thickness.
Embedded Components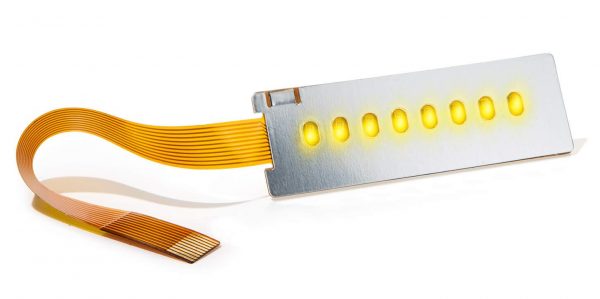 To enhance user feedback, membrane switches are often designed with (but are not limited to) embedded LEDs, light sensors, and resistors. These surface-mounted components can be adhered to the circuit layer with conductive epoxy and encapsulated with a UV cured polyurethane.
However, if copper polyimide circuits are being used, the components can be soldered into place, for a much more durable result. This becomes a significant advantage in manufacturing, as you can automate the application of solder and parts with pick and place methods.
"Very pleased with your team's response to our need during the COVID-19 crisis."
Lisa L., Medical Device
"JN White has been exceptional in working with our company in order to develop the look and feel of our new MRI patient worn transmitter. We had originally worked with a prior manufacturer for an earlier version of this product with much less desirable results. JN White delivered a clean professional product at a very reasonable price on time!"
Gary P., Medical
"We had very little information to work with and Jessica James made it nearly effortless on our end to get us exactly what we needed in a timely manner."
Lexi W., Industrial Equipment
"Getting any after-market graphic overlays done always has a certain risk factor in getting it all right. You guys were helpful, patient, & knowledgeable to achieve the best end result. Even pointing out some things that might be [an] oversight or [areas for] improvements. The outcome was perfect."
John S., Technology
"The print task was between the USA and Australia and everything went so smooth. I submitted a drawing, got a return email for me to confirm what I wanted. Even though this was over the Christmas period the print was waiting for me when I got back to work after the holidays. Great job and thanks."
Matt C., Military
"All of the folks there at JN White that I have talked to and dealt with have been very nice and professional."
Vern L., Industrial
"Customer service is wonderful. Receive confirmations and responses in a timely manner. Product has great quality."
Sara H., Medical
"It has been a pleasure working with JN White. We switched suppliers for some of our products to your company and you have given us higher quality. Excellent work!"
Roger W., Education
"I feel confident that JN White will do my order correctly."
Marie P., Government
"I found working with Sara to be a pleasant experience. We were trying to dial in the color to get just the right look on the printed substrate...Sara sent us a sample print sheet that had several variations, up and down, from the colors we specified, which allowed me to pick exactly the color we wanted. The end result product is perfect!"
Don M., Safety
"Our department has used JN White for a number of years for our inspection labels. They always respond very quickly when we contact them to place an order and communication is great with any questions we have. Highly recommend them."
Jim R., Government
"Easy process and great people to work with."
Richard Z., Military
"I'm very satisfied with your service. Always looking forward to bring the best!"
Ramses Z., Medical Devices
"JN White is very responsive to their customers. Product is delivered as expected...and they provide quality products. They have a clear understanding of the obstacles facing US based customers regarding the entire supply chain."
Bob M., Point of Sale
"We always deal with Steve Matacz. He is the best at making sure all details are perfect. Timely communication with any questions we have."
Paul A., Recreational
"Customer response time is one of the best; always prompt and helpful. On-time performance the last 12 months is 100%."
RoseMarie C., Utilities
"Customer service, quality and lead time are great! No complaints."
Sara H., Medical Devices